About AeroVironment
Company: AeroVironment, Inc.
NASDAQ: AVAV
Phone: 805.520.8350
Website: https://www.avinc.com
Description: AeroVironment, Inc. is one of the top suppliers of unmanned aircrafts in the world. Our global customers are growing continually in the areas of the Defense Industry, Distribution & Logistics, and more.
History: Started by acclaimed physicist and engineer Dr. Paul MacCready in 1971, AeroVironment quickly became a pioneer in the technology of unmanned aircraft. With Dr. MacCready's active role in all technology areas, his team at AV developed aircraft which are used by NASA, the U.S. Military and other private companies. Many of his classic aircraft designs can be seen today in the Smithsonian American History Museum, the National Air and Space Museum in Washington D.C. and the Museum of Flight in Seattle, WA. A pioneer in the field of alternative fuel, Dr. MacCready and AeroVironment teamed with GM in the late 1980's to create one of the first battery-powered concept cars. This car later became a factor in creating California's Zero Emission Vehicle Mandate and was a great global example for alternative fuel vehicles. - AeroVironment, Inc.
Quote from the Founder: "I'm more interested in a world that works than what sells" - Dr. Paul MacCready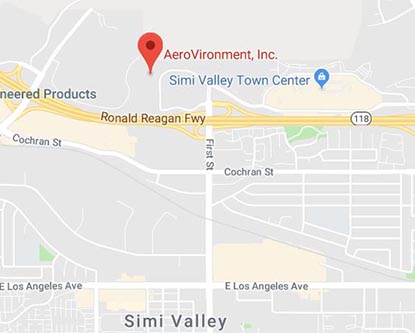 News and Analysis
AeroVironment, Inc. Attended the Association of the US Army (AUSA) Annual Meeting & Expo: Booth 2339
AeroVironment's CEO Retirement and His Successor
"For nearly a quarter-century, Tim Conver has helmed drones and batteries conglomerate AeroVironment, but no more. On May 1, Conver will cede the CEO spot to current company Chief Operating Officer Wahid Nawabi. What will this mean for the company, the biggest name in small drones, and its investors?"
AeroVironment's leadership transition plan

"The AeroVironment (AV) Switchblade SUAV (Small Unmanned Aircraft System)/mini-UAS "kamikaze drone", which is essentially a tube-launched small, slow-moving mini-flying bomb/precision-guided missile that will soon be going into U.S. Army service in a tactical reconnaissance lethal combat role rather than just a tactical recon role. Defense Review really likes this concept, as well as its precision aspect when practically applied. Finally, this is a kamikaze concept Americans can really get behind, since it doen't result in the loss of the pilot. After all, we don't have an emperoror for whom we're willing to die." (Source: Defense Review)
Memberships and Reviews
DARPA Awards AeroVironment Phase II Tern Contract to Develop New Class of Maritime Unmanned Aircraft System